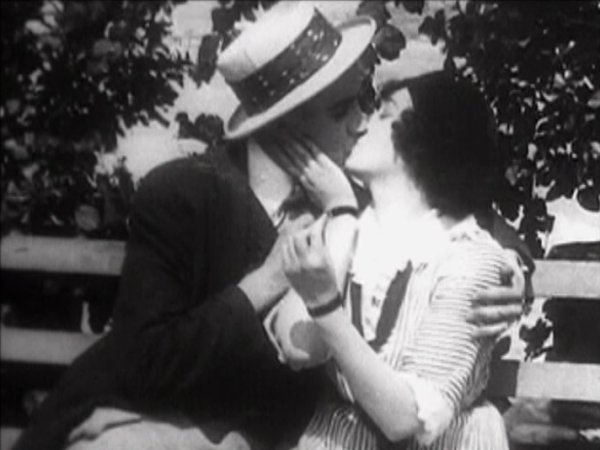 .......
Charley and his girlfriend (Mae Busch) are sitting on a bench when he tells her to close her eyes. He puts a ring on her finger, and she joyfully accepts it. Meanwhile, a married couple hire out a rolling chair, with the woman getting in as a passenger and making her husband push her - much to his chagrin.
Back on the bench, Mae begins to fiddle around with Charley's tie, but he reprimands her for doing so. She is so offended by his attitude that she gives him the ring back and storms off (in typical Mae Busch fashion!) She stops by a sea-side novelty shop, where a donkey is tied to a post, as Charley protests his innocence. Mae walks past the married couple with the rolling chair, who have stopped at the shop, but she looks back to see Charley interrogating the donkey (!) as to whether it has seen his girlfriend?
The wife in the chair flies past Charley, almost knocking him off his feet, as the husband laughs his head off. Mae stops by a man running a barbeque stand and points to a piece of meat she wants, whilst the wife in the chair stears uncontrollably towards a carousel. Mae goes to walk off without paying for her meat but the vendor pokes her into coughing up some money.