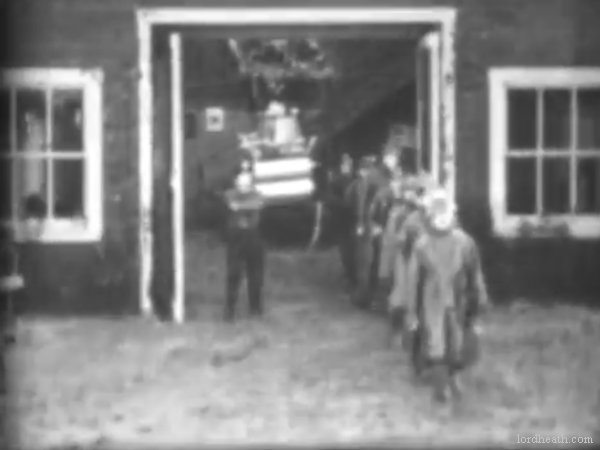 From the 3 minutes of footage available for review:
It's 10am and Snub wakes up in his bed fully dressed in his fireman's uniform. The camera then pulls back to reveal he is actually sharing a room with several other firemen who all jump out of their beds at the sound of the fire bell. After they all climb down the fireman's pole they frantically try to get a horse ready for duty but when it runs off before they can fasten the carriage to it they have to bring in a motorcycle as a replacement. A message is shouted out to the firemen for them to follow the chief, and if he doesn't know where the fire is he'll start one!
A way down the road and the fireman's boiler-thing catches fire (by this time in the film I was so bored I couldn't be bothered anymore....) They all dismoumnt and try to jump onto Snub's wagon, which then collapses (see favourite bit). The guys manage to wedge a wooden stick into the wagon and get it going again. Eventually they arrive at a burning farm house and from absolutely nowhere they manage to find a round safety net which they use to encourage the occupants to jump into from the first-floor window. The woman, Marie Mosquini jumps, followed by a man, who misses the net when the firemen move over to catch Ernest Morrison jumping. As the fire engulfs the house it appears that a fight breaks out between the men. Odd.