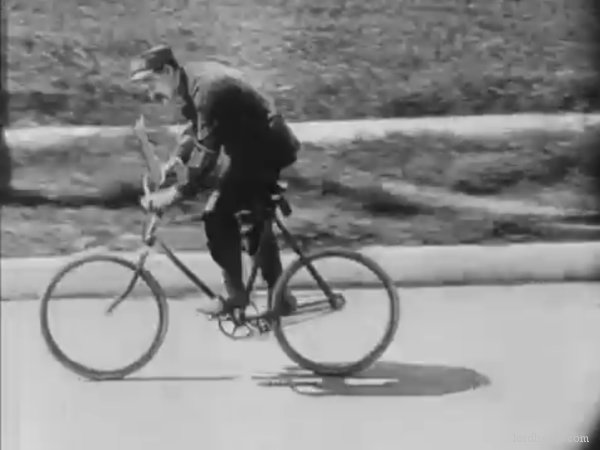 from the 1 minute of footage available to me for review...
Snub is a telegram delivery officer, riding his bicycle along the street. He rounds a corner and is narrowly avoided by a vehicle leaving a garage. We cut to a close-up shot of Snub to reveal that he is distracted with reading a magazine which is mounted on the front of his bicycle. Standing in the middle of the street completely engrossed in reading the magazine he is oblivious to the dangers all around him. (Think of it in terms of today's world but with idiots and their mobile phones out in public). As he continues reading, he cycles down a steep embankment and falls off the bike. Without even breaking a sweat he gets up and carries on reading and riding, with cars just missing him.
Snub gets off his bike when he arrives at his destination. He walks into the building and gets into an elevator and signals to go up. Ernie Morrison is sitting on a horse which then walks on a conveyor belt to operate the lift up to the first floor landing area. Snub knocks on a door and a woman's arm reaches out to take the telegram whilst Snub looks bashful before he gets back in the elevator and returns to the ground floor.