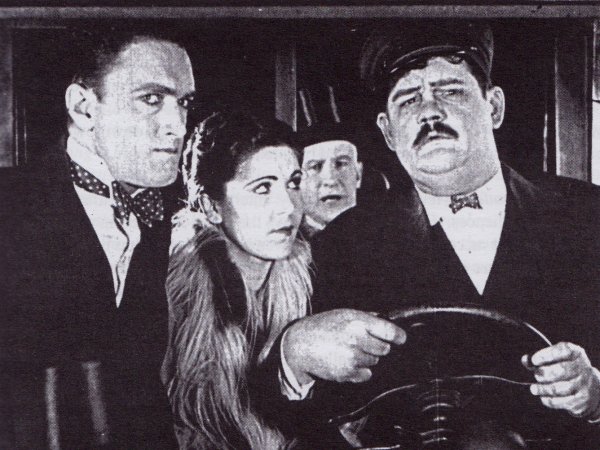 A newlywed couple (Harold Goodwin and Shirley Palmer) receive a bunch of gifts, including a puppy. Shirley telephones her Harold, who lives across the street and he leaves his house. He hails a taxi (driven by

Oliver Hardy

) and makes the short trip to her house (opposite). The taxi waits for him to conclude his business and leaves the meter running. When Harold staggers out of the house later on, he forgets to pay the taxi fare. The taxi driver follows his passenger back into his home to get his money.
From this point on, Hardy follows Harold all over town in pursuit of his fare, including going to the extreme of hiding in the man's bed! The couple later check into a hotel. Hardy follows them but gets ejected for starting a fight, after a case of mistaken identity; but he later beats up a detective, steals his badge and re-enters the hotel.
A telegram arrives at the hotel for Harold but when the manager takes it to him and knocks on the door, Harold and his bride duck out the back and avoid paying the bill.
Hardy picks up a customer who then rides in the taxi with the newlyweds, eats their lunch but also leaves a huge tip. With the money, Hardy starts up a bus company where passengers are encouraged to eat while they ride. It's a massive success, with passengers boarding the moving vehicle via any means they can - by wench, or plank from another bus. Unfortunately, Hardy receives an unexpected blow to the head, knocking him out and the bus eventually crashes into a tree, after a beautiful scenic tour of downtown Los Angeles.