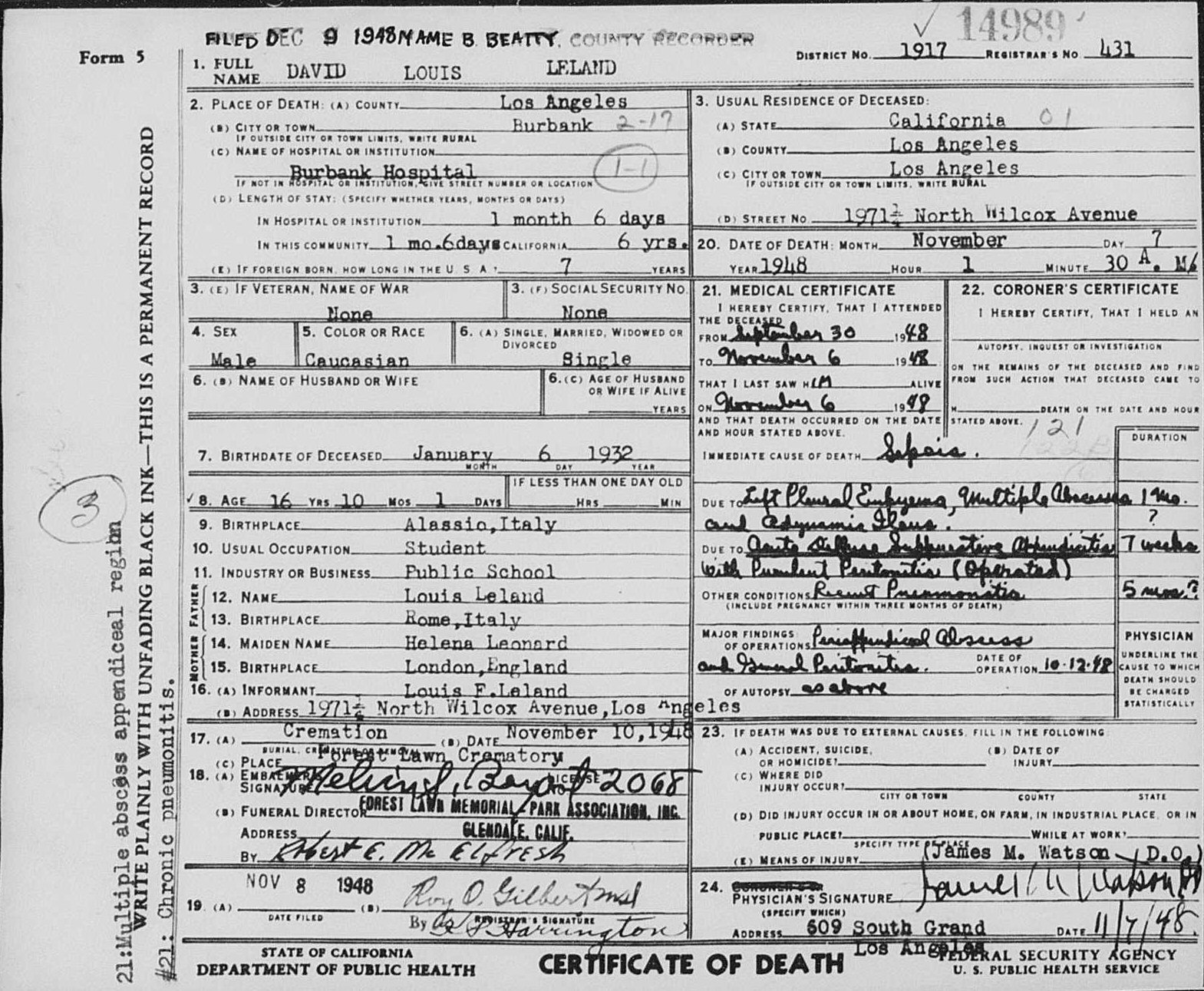 He was born in 1932 in Alassio, Italy to a wealthy American father (LOUIS) and his London born wife (HELENA). They were married in Buckinghamshire (England) in Feb. 1930. This was LOUIS's second marriage. At this time, his first wife and 2 grown children were living in San Francisco (CA) having moved from New York City to Los Angeles about 1920. The first wife was about 6 years older and the second wife about 22 years younger than LOUIS LELAND.
The LELAND Family owned the Villa Chiays in Alassio when DAVID's younger sister was born in 1934 and I don't know if his older sister (2 yrs.) was born there or possibly in England. At that time, LOUIS, the father listed his profession on legal documents as "none", so I gather that he was living off the "family fortune". Near the end of WWI (1918), he was working in Italy doing "war trade work". He was an American (born to an American father and an Italian mother) in Rome but raised in the USA since he was 4 years old (b.1879). At this time (1918) he was president of an outdoor electrical lighting company in New York City. Since about 1904, LOUIS and his first family lived in the "brand new, ultra modern" residential Hotel Ansonia on Broadway with 2 live-in servants. A residential Ritz for it's time, it had air conditioning and a small farm on the roof with cows and goats for milk, and chickens for fresh eggs! It's now on the US National Registry of Historic Places because of it's architecture and the famous writers, artists, and musicians etc. who stayed there like ENRICO CARUSO and BABE RUTH.
http://en.wikipedia.org/wiki/The_Ansonia
If you think the father of "our" DAVID LELAND was wealthy, his grandfather was "mega" wealthy. This guy was born in Montevideo, Uruguay to a (retired Colonel) US Civil War officer from New York. In New York City, the Colonel started a bank which became the New York County National Bank, which "our" DAVID's grandfather inherited. In 1912, this grandfather donated $1,000,000 to the Metropolitan Museum of Art (yes----one million dollars). This bank building is also on the National Registry of Historic Places.
http://query.nytimes.com/gst/abstract.html?res=F30A11F6345C13738DDDA00A94DB405B868DF1D3
http://daytoninmanhattan.blogspot.com/2010/10/ny-county-national-bank-building-14th.html
Now, to get back to "our" young DAVID LELAND.
He arrived in the USA about 1941 or 1942 at the age of 9 or 10. Someone on the Laurel & Hardy Forum intimated that DAVID's English accent was "fake". I think it was genuine, as he was raised by an English Mother!
On September 30, 1948, he was admitted to Burbank (CA) Hospital with ACUTE DIFFUSE SUPPURATIVE APPENDICITIS with PURULENT PERITONITIS.
On October 12, 1948, he was operated on and found to have PERIAPPENDICEAL ABSCESSES and GENERAL PERITONITIS.
On November 7, 1948 (1:30 AM), he died from SEPSIS (immediate cause of death) due to LEFT PLEURAL EMPYEMA, MULTIPLE ABSCESSES and ADYNAMIC ILEUS complicated by CHRONIC PNEUMONITIS which he suffered for about 5 months.
On November 10, 1948, his remains were cremated at Forest Lawn Memorial Park, Little Church of the Flowers, Glendale, CA.
On June 30, 1963, his dad, LOUIS F. LELAND dies in Los Angeles, aged 84.
On January 21, 1989, his mom, HELENA M. LELAND dies in Orange, CA, aged 87.
It looks to me like DAVID suffered pus emitting pneumonia in his left lung and an inflamed appendix leaking pus and poison into his blood and infection and pus filled abscesses in the linings of his lower
abdomen, plus his bowels weren't functioning and emitting pus and poison and infection into his body.
He attended Berkeley Hall School, a private, arts oriented school which is still operating.
FYI: The DAVID LELAND on the "Wagon Train" TV program was born in 1921 and died in 1987.
The Brit, DAVID LELAND, the actor, writer, director was born in 1947 and is very much alive.