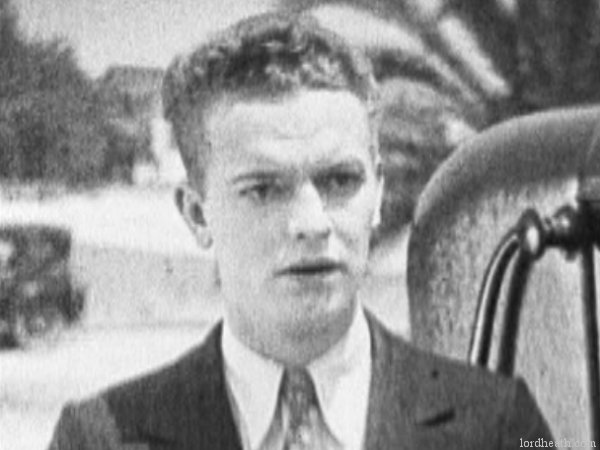 Eddie Clayton

born:

08 January 1901


Charleston, West Virginia,
United States of America

died:

03 April 1959
University VA Hospital,
Pittsburgh, Pennsylvania,
United States of America
(throat cancer and pneumonia, age 57)
American actor, the son of Emory Clay Jones and Geneva Florence Mason. His father was a successful insurance agent in Charleston [Dad's 1933 obituary w/family names]. His grandfather was Edward Clayton Jones.
Evidence of Eddie in Texas is slim but I think he was in Fort Worth in the teens and twenties. His folks were well-off and could have sent him to school there. The WV Culture Center Archives in Charleston checked the school yearbooks and could not find him and I could not find him in Ft.Worth Yearbooks either. The EDWARD CLAYTON (b.WV) in the 1940 Census has 2 years of HS and works as a accountant for the WPA as if he has come full cycle. The Death Certificate has him as an "office worker". His Dad's 1933 obit names a half-sister in "Texas" but I haven't found her. The 1920 Census has EDDIE with his family in Charleston employed as "paymaster for a gas company and the EDWARD C. JONES in Ft.Worth is an accountant for an oil company and the other personal details pretty well match. In TX, he is lodging with the SEDGWICK Family and I tried to link them to EDDIE's one-time director EDWARD SEDGWICK (from Galveston, TX) but haven't been able to connect them. EDDIE's being in 2 places at once in 1920 is not that unusual when a young family member was away at school, in the military, etc... I believe his Charleston Family gave the Census Taker information as though he were living at home. This happened to HAZEL HOWELL in 1920. She is listed with her family on the ranch and also as a boarder with a family in downtown Los Angeles. EDDIE's 2 studio bios say he was born in Charleston, WV and educated in Texas.
He is buried in Spring Hill Cemetery, Kanawha County, West Virginia, USA.
Real name: Edward Warner Jones


Height: 5'9"
Films listed on this page: complete Hal Roach filmography.
| | |
| --- | --- |
| | 2 |
Acknowledgements:
1900 Jun 6 parents marriage: http://www.wvculture.org/vrr/ va_view2.aspx?FilmNumber= 521720&ImageNumber=571.
1901 Jan 8 EDDIE's Birth Cert: http://www.wvculture.org/vrr/ va_view2.aspx?FilmNumber= 4017254&ImageNumber=2336.
1920 City Dir. Charleston WV: separate listings: EMORY C.JONES and "EDWARD W. JONES" both reside 1117 Smith St. at Ancestry.com
1921 Nov.30 "Fort Worth Star Telegram" p .2 Ad for "Love Charm" " EDDIE CLAYTON JONES A Well Known Fort Worth Boy in Cast".
1922 Sep12 "Fort Worth Star Telegram" p.12 Ad for "Dangerous Little Demon" insert "SEE EDDIE JONES".
1922 Apr 7 "Charleston Daily Mail" p.13: Ad for "Dangerous Little Demon" "Eddie Jones from Charleston in Big Exhibition Dance"
1921 Dec 25 "Charleston Daily Mail" p.10: "EDDIE JONES...Former Charleston Man Will Be Seen in 'Her Face Value' at the Rialto".
1927 Jun 19 "Charleston Gazette" p.4: "EDDIE CLAYTON better known to Charleston as EDDIE CLAYTON JONES....". Personal appearance. Also names parents.
1933 May 27 "Charleston Gazette" p.8: obit of EMORY C. JONES: survivor "EDWARD CLAYTON JONES, Hollywood, Calif.".
1942 Nov 3; EDWARD W. JONES Los Angeles enlists in US Army: civilian accountant:has 2 yrs.HS ed.:b.1901 WV: ht.68": wt.130lbs: Ancestry.com
1959 Apr 3 "Charleston Daily Mail" p.5: columnist asks to send cards to one-time Hollywood actor, EDDIE JONES, at Univ.(VA) Hosp., Pittsburgh after major operation.
1959 May 29: Pennsylvania Death Certificate: EDWARD WARNER JONES dies of throat cancer and pneumonia aged 57: names parents: Ancestry.com.
1910 Census: https://familysearch.org/ark:/61903/1:1:MPNX-MSR
1920 Census (Charleston): https://familysearch.org/ark:/61903/1:1:MNKJ-3VR
1920 Census (Fort Worth): https://familysearch.org/ark:/61903/1:1:MC9J-56D
1930 Census (Los Angeles): https://familysearch.org/ark:/61903/1:1:XCJB-V1W
1940 Census (Los Angeles): https://familysearch.org/ark:/61903/1:1:K9HP-8V8
https://archive.org/stream/motionpicturenew1929moti#page/64/mode/1up/search/clayton (1929 Blue Book)
https://archive.org/stream/motionpicturenew1930moti#page/46/mode/1up/search/clayton (1930 Blue Book)
https://archive.org/stream/motionpicturealm00quig_0#page/n163/mode/1up/search/clayton (1931 Almanac)
https://archive.org/stream/motionpicturealm00quig#page/n145/mode/1up/search/clayton (1932 Almanac)

TEXAS Connection:
"Fort Worth (TX) Star Telegram":
1921 Nov.30 p .2 Ad for "Love Charm" " EDDIE CLAYTON JONES A Well Known Fort Worth Boy in Cast"
1922 Sep12 p.12 Ad for "Dangerous Little Demon" insert "SEE EDDIE JONES"

WEST VIRGINIA Connection:
"Charleston (WV) Daily Mail"
1922 Apr 7 p.13 Ad for "Dangerous Little Demon" "Eddie Jones from Charleston in Big Exhibition Dance"

Newspaper movie advertisements show he was "claimed" by both cities.

1920 Census for Ft.Worth has EDWARD C. JONES b.WV is accountant for oil co.age 19 and boards with CHARLES SEDGWICK.
1940 Census for L.A.........has EDWARD CLAYTON b.WV is accountant for W.P.A.age 39 has 2 yrs. High School education.

Jim Jarvis (research and information)
Jesse Brisson (help and information)



This page was last updated on: 18 December 2018