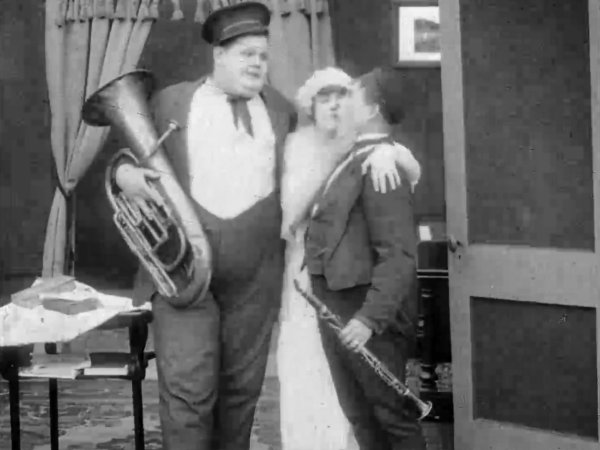 In this 'Plump And Runt' film, Babe Hardy and Billy Ruge are rival musicians who both live in the same house. Plump (Babe) sits on a trunk in his room with his French horn but cannot play it due to a kitten that has crawled inside it! Runt (Ruge) on the other hand sits in his own room playing his clarinet. The lady downstairs is going nuts, as well as an elderly man ('the grouch') upstairs, on account of all the noise. The incapacitated grouch bangs a chair on his floor repeatedly, sending half the ceiling down onto Plump on the floor below, but Babe doesn't notice because he is playing his instrument so hard. Plump finally realises he has a mouth full of ceiling and stops playing, much to the relief of the man upstairs.
Bandmaster Schmitte (an early film for

Billy Bletcher

) and his daughter are introduced into the film, with him leaving his apartment and heading off to his headquarters where other musicians are gathering outside. Schmitte puts the four men through their paces like a drill sergeant on heat.
At the house, Plump enters the room of Schmitte's daughter, opposite the hallway and embraces her warmly, whilst Runt continues his clarinet playing and annoying everybody else in the house until the lady downstairs throws a pale through his wall. Mind you, the woman takes things too far when she tries to add a chair to Runt's room via the broken hole in the wall. So much so that Runt retaliates in comical fashion.

Upstairs Plump is serenading his girlfriend and causing Runt to remonstrate with him through the ceiling.