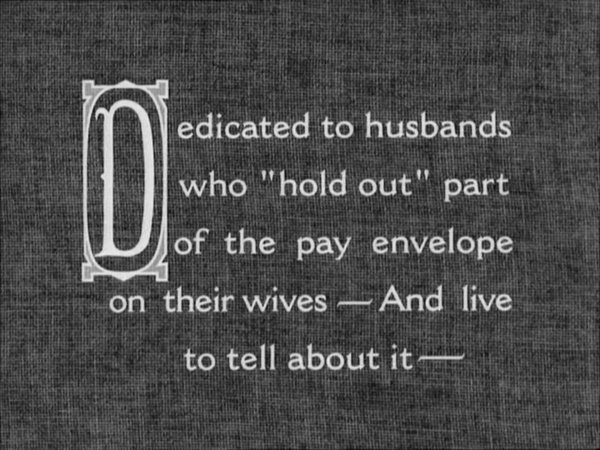 Stan arrives home and is immediately accosted by his money-grabbing wife, who demands he hand over every piece of change he has on him. He gives to her what she believes to be all of it but he doesn't notice her observing him putting what he has left in a rather ingenious hiding place - on the inside lining of a picture on the wall which opens up to reveal a pocket stuffed full of cash. Soon after, Ollie and his wife arrive and he reveals how his wife found all his money too ("she's a bloodhound", he quips.)
Oblivious that Stan's wife has switched his hidden money with some coupons the boys suggest they be allowed to go to the bowling alley, which surprisingly the wives agree to. It is soon apparent however, they have other intentions on their minds. They leave the house and it isn't long before they encounter two girls stranded outside a restaurant after their fellas have fled, owing the money for a meal they had just 'bought' them. Confident he has enough money about him to take care of the payment, Stan agrees to clear the debt if the ladies will escort him and Ollie into the restaurant for a meal. They do, but not before the local gossip sees them and runs home to tell their wives.
After a short while Stan realises he doesn't have any money and tries to leave undetected with Ollie, but are confronted by the angry wives ("you'll never get them to believe this is a bowling alley" remarks Stan). As the boys are pursued into the kitchen a pie-throwing routine ensues and the film ends.