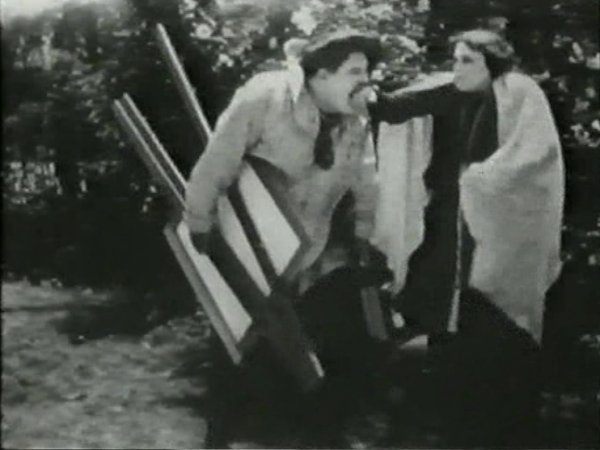 Outside on the sidewalk the client pokes two adverts on the building with his cane before walking off.
Plump proclaims he will now paint the widow, who called on the telephone earlier. He kisses the slashed portrait before discarding it and putting up a new canvas, ready to paint again. He gathers his equipment and, after a brief pause in the street, heads off to the garden where the widow is waiting for him.
When Plump arrives to greet her, the widow begins to flirt with him. She offers her arm for Plump to kiss, but he tries to bite it instead. Together they both look very joyous and relaxed. Meanwhile, back in the studio Runt is busying himself by painting a new portrait of the model, who is looking disinterested. Simultaneously both Plump and Runt are painting their respective subjects in different locations. A close-up shot of the widow shows her to have blotches of paint all over her face from the clumsy brush handling of Plump, not that she seems to mind.


Plump starts to feel uneasy with the widow's signs of affection and hurredly tries to finish his portrait, whilst back at the studio Runt is finishing off his masterpiece with the title "What's the use".