| | | |
| --- | --- | --- |
| | | |
| | The Show | |
| | | |
| | 19 March 1922 | |
| | Vitagraph | |
| | silent short | |
| | 2-reels | |
Director/
Producer/Writer

Director/Writer

Producer

Cinematography

Editor

Assistant director

Larry Semon

Norman Taurog

Albert E. Smith

Hans E. Koenekamp

?

Roland Asher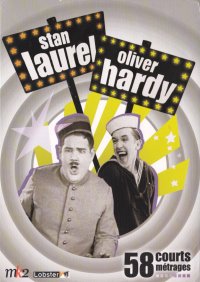 AVAILABLE ON DVD
(click image for Amazon.fr)
A magic act performs on stage to an audience, whilst the stagehand (Hardy) robs the leading actress of her jewels backstage. This results in him, and the rest of his gang, being pursued along the top of a moving train by the chasing ensemble of cops as well as one of the theatre actors Semon).

Silent two-reel comedy with Larry Semon, featuring Oliver Hardy. There are a couple of decent sight-gags, and the last five minutes are quite brilliant; a train ploughing through the middle of a mobile home which has been unhooked on the railway tracks, cops being pulled along on by the train with their backsides gliding on the rails. There is a ballsy stunt performed by Semon towards the end (which you can see is real) where he narrowly avoids being hit by the oncoming train.
Facts


•Filmed October 13- November 1921.
•Filmed at Vitagraph Studios and in Glandale, California, USA.
•Working titles: "Props"; "The Show Shop".
•Copyrighted February 11, 1922 (LP17545) by Vitagraph Company of America.
•William Hauber acted as Larry Semon's stunt double.
Did you notice?


•During the magician's routine, the cockrel briefly changes colour from white to red - and then back to white again (around 11 minutes).
Acknowledgements:
Laurel Or Hardy by Rob Stone (book)
Steve Massa (identification of William Hauber and Grover Ligon)



This page was last updated on: 06 June2022