Listen, Listen.....!
Alfred Hitchcock Presents
Season 3, Episode 32
Episode #110

First aired: 11 May 1958

Hitchcock time: 2:00
Story time: 21:43
Total episode time: 25:01

My rating: 9/10
Director: Don Taylor Teleplay: Bernard C. Schoenfeld Story: R.E. Kendall Producer: Joan Harrison Director of photography: John L. Russell Associate producer: Norman Lloyd Art director: John Lloyd Editorial supervisor: Richard G. Wray Film editor: Edward W. Williams Set decorator: James S. Redd Assistant director: Frank Fox Sound: John F. Kean Makeup: Jack Barron Hair stylist: Florence Bush

Cast: Edgar Stehli, Adam Williams, Dayton Lummis, Baynes Barron, Robert Herrman, Jackie Loughery, Rusty Lane, Edith Evanson, Kitty Kelly, Rad Fulton, Elsie Baker.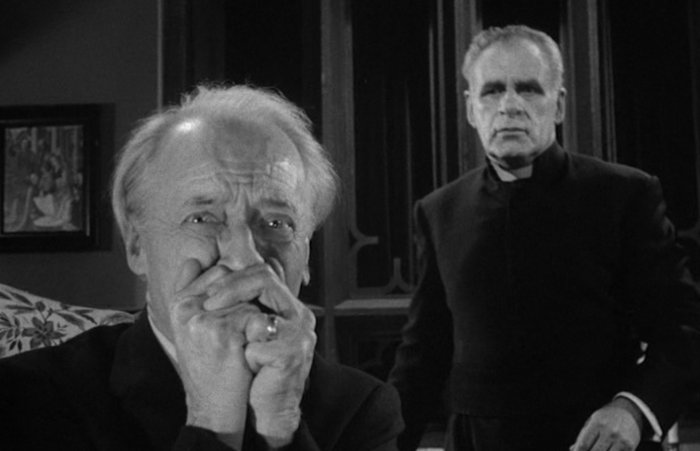 Plot summary:
Herbert Johnson (EDGAR STEHLI) is an elderly man has a theory about a recent murder and goes to the police station to explain it to a desk sergeant (DAYTON LUMMIS) but the cop just doesn't seem to be particularly interested. The case is of a series of three young girls who were all recently killed by a 'stockings salesman' all in the same manner, except that the third girl - named Helen Jamison - was only assumed to have been murdered by the same man. Herbert desperately tries to preach his theory that this third girl was in fact killed by a copycat killer but the sergeant suggests he goes downtown to explain it all to Lieutenant King.
Herbert tries again to offer his theory about the third murder to the lieutenant, who reluctantly listens to him. Herbert goes over the case details, all of which the cop already knows, before eventually he cuts him off. Lieutenant King (ADAM WILLIAMS) admits that the police are lacking concrete proof about the identity of the killer in the third murder but are generally satisfied they have their man. Herbert tries to convince him they are wrong but it does no good. Nobody wants to listen to the old man.
Herbert tries the Want Ads department at The Chronicle newspaper to try and talk to a reporter but the desk clerk directs him to a bar called Aces, where most reporters are known to hang out. At the Aces bar Herbert orders two small sherrys before engaging with a reporter from The Chronicle, a Mr. Beekman. Herbert introduces himself as Ralph Reed and buys Beekman and a woman a drink before adding a third sherry to his tally. But it doesn't take long before the effects of the drink cause him to feel drowsy and he leaves.
Herbert's last hope is Father Rafferty (RUSTY LANE) at his church that evening. Herbert introduces himself and expresses his desire to talk about the murdered girl. The priest is warm and compassionate and hears Herbert's theory about how he believes the real killer simply copied the actions of the same man who killed the first two girls in order to divert blame away from himself. The viewer is then challenged to suspect the priest may be the killer, or that Herbert himself may know more than he is letting on. The priest advises Herbert to go home and get some rest.
When Herbert gets home he tells his fussy wife (EDITH EVANSON) about his day and how nobody would listen to him. He finally breaks down and reveals the reasoning for his behaviour....

















Hitchcock's prologue: (1 minute 20 secs)
[Hitch is standing next to a record player, which he operates with a pre-recorded record being played of his voice over] "Good evening ladies and gentlemen. I hope you'll excuse the use of this mechanical device but I have a mild case of laryngitis, and I don't wish to strain my voice. [Hitch nods appropriately] Tonight's story is in [record jumps] tonight's story is in [record jumps] tonight's story is in [record jumps and Hitch picks up the needle to replace it on the record] Good evening ladies and gentlemen. I hope you'll excuse this broken record, but it was improperly handled. Tonight's play is called, 'Listen, Listen' [record jumps] 'Listen, Listen' [record jumps] 'Listen, Listen' [Hitch picks up the needle again and replaces it] But 'Listen, Listen' really is the name of the story. 'Listen, Listen' [record jumps] 'Listen, Listen' [record jumps] 'Listen...' [Hitch picks up the needle again and then begins speaking in a whisper in his own voice] I think we have made that point quite clear. Now to save my voice, I think we shall indulge in some mental telepathy. Look at the expression on my face and see if you can tell, what is coming next."

Hitchcock's epilogue: (40 secs)
[Hitch is whispering] "To speak and not be heard, that is a frustrating fate. It probably accounts for the strange behaviour of our sponsor. So for the next minute, pay strict attention, lest he become more neurotic than he is. I shall see you in sixty seconds." [commercial break] [Hitchcock points to his throat and then cups his ears and circles in the air with his fingers before praying as the segment ends].
My opinion:
Fantastic episode. Great acting, beautiful cinematography, intrigue, suspense and very well paced. This season was becoming average and then all of a sudden a story like this comes out of nowhere to thrill and excite the viewer. And to top it off, Hitchcock's performance was absolutely brilliant too; ingenious. The only reason I couldn't rate it a full 10 was due to the obvious ending, which became apparent during the scene where Herbert gets upset talking with the priest. But aside from this giveaway, which some might think was obvious early on, I found this to be a thoroughly entertaining episode. Highly recommended.
! SPOILERS !


Herbert's wife is the killer.
Trivia:
•When Herbert (the old man) gives his name as 'Jasper F. Smith' to the police sergeant he stutters whilst saying his name. This is in the first scene and the first clue as to him not revealing his true identity. In the next scene Herbert introduces himself to the lieutenant as 'Cyrus Morgan'. When he visits the bar he is 'Ralph Reed'.
•Edgar Stehli (the elderly man) was born in France in 1884 and was 73 years old at the time of filming.
•The name of the stockings murderer is Schultz.
•When Herbert first arrives at the newspaper office he begins talking to the clerk. A telephone rings right next to him and another clerk takes the call yet we don't hear him speak. Strange, considering that the two men are right next to one another and we can hear James Westmoreland speaking clearly.
•Rusty Lane, who plays the priest, has one of the best scenes in the entire episode yet his name isn't even on the first sheet of actors' credits in the end titles.

Edgar Stehli
Herbert Johnson
Adam Williams
Police lieutenant King
Dayton Lummis
Police sergeant Oliver
Baynes Barron
Charlie, the bartender
Robert Herrman
Mr. Beekman, the journalist
Jackie Loughery
Slats
Rusty Lane
Father Rafferty
Edith Evanson
Mrs. Johnson
Kitty Kelly
Miss Andrews
James Westmoreland
Ads in press receptionist
Elsie Baker
Woman church goer
CREDITS

This page was last updated on: 25 July 2022