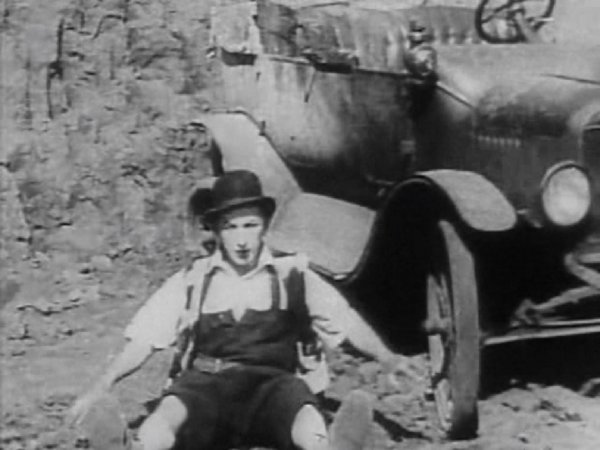 .......
The film begins with a masked robber (Oliver Hardy) holding up some people by the side of the road. He quickly jumps into his car and speeds off. The sheriff (Frank Alexander) is quickly on his tail as he pursues the villain whilst riding on the back of the chasing car. He stops off at the roadside where the robbery took place to speak to the victims. Meanwhile, Hardy drives his getaway car and parks it inside a farm house. The sheriff is close behind and also stops at the farm in his uncontrollable car, which assumes a mind of its own, bouncing all over the place. After the driver drives off in the car, Hardy, who has changed out of his villains' clothing, goes to help the sheriff up off the ground.
Two men are driving along a country road in their car. They are Larry Semon, relaxing casually in the passengers seat and strumming on a small guitar, and driver Bill Hauber. But when the camera pulls back to reveal a wider shot, we see they aren't driving the car at all and in fact it is being pulled by a donkey with reins! Hauber dangles a bunch of carrots in front of the animal's face to get its attention before jumping on its back. The donkey is excited and finds some energy to pull the car (with Semon in it) up a steep hill.

The donkey and car become separated and the car rolls back down the hill and crashes into the rocks.