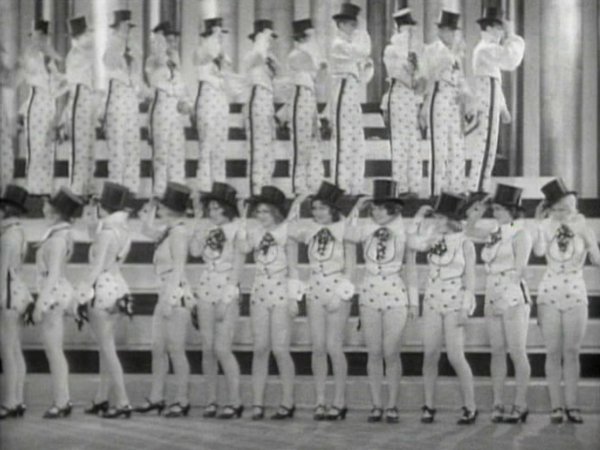 .......
An all singing, all dancing, all star cast kicks off with a dance routine introduced by three young girls holding an introductory card. Twenty-four dancers perform a typical routine using symetrical movements, shown through a series of camera techniques which includes shadows and negatives.
The host (Jack Benny) takes to the stage and introduces the next act, Conrad Nagel. His first job is to introduce Broadway sensation Charley King, who interrupts his speech. King asks the audience of seated dancers who is the greatest lover on the screen, when Cliff Edwards takes to the stage with his ukelele and starts singing (badly). When he realises nobody is listening to him he drags himself away. The curtain closes and opens with Joan Crawford singing a song (quite well, to give her credit) with a piano accompaniment. This progresses into a small dance until she is joined at the piano by some backing singers. At the end of the routine she is pushed off the stage whilst sitting atop of the piano by the others.
Next up are the original dancers to tap-dance to a new tune in their small group. There is a nice little sequence where an exchange of hats between them, seen from a side-view, looks quite effective. During the scene there are a few close-up shots of the lead singer and an accompanying dancer who has taken to the stage.