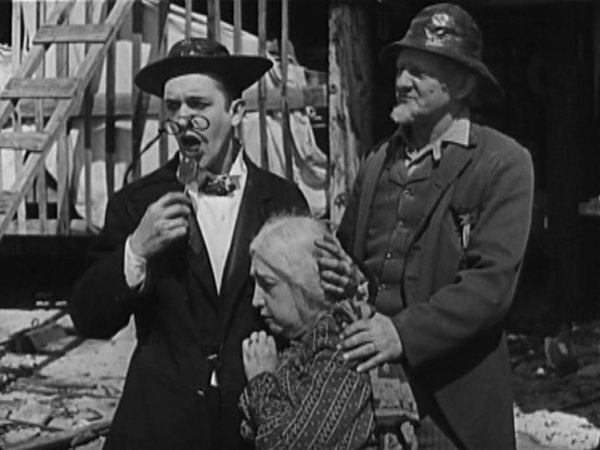 "The panic of Presedential Year gripped the village of New Tuna - The Fish would do nothing until after election." And so begins our story. Filbert McSweeney, an elderly and penniless man, puts up a 'for sale' sign on his beach home, "Flotsam Castle". After kissing goodbye to the post holding the sign, he makes his way back to his home on the beach, where his wife comforts him.
In the distance, a young man is gayly skipping around on the beach, oblivious to any problems in the world. He is Winchell McSweeney (Stan Laurel), the son of the broken man. He stops, pulls out a lollipop then approaches his tearful mother. As Winchell is wiping away her tears with a handkerchief, Mr. McSweeney breaks the news that it is time for his son to make his own, difficult way in the world. Winchell takes the news on board for a moment whilst getting his sticky lollipop entangled in his mother's hair before giving it another lick.
The father bids his son a farewell, reminding him not to forget about his dancing lessons. The two men shake hands, with Winchell depositing his lollipop in his father's palm. The father kicks Winchell in the rear, which sends his hat into the air. Mother warns her son to be cautious of women, whom are not to be trusted. Wenchell bids his farewell, then promptly walks into a large fishing net. In a small sea-front town, the young man sits on a bench by a post office when two navy women stop by to tie up their shoes. Winchell, not knowing what to do, gets up and walks to the dock and boards a vessel, trying to avoid contact with them. Unfortunately (for him) they also get on board. The boat leaves the dock and heads out to sea, where four more women in navy uniforms latch on to him.