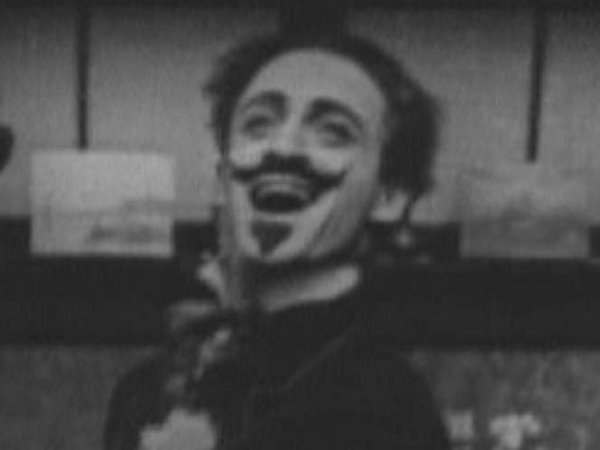 Leo White

born:

10 November 1882


Graudenz, West Prussia,
Germany

died:

20 September 1948
Glendale, California,
United States of America
(age 74)
Comedy actor who played a wax-moustached villain in early silent movies, including some of the very first Charlie Chaplin shorts. He had extensive experience on stage and film.

His year of birth seems to be subject to discussion, ranging from 1873-1890, depending on which source you believe. 1882 appears to be from the majority of sources, and is the date I have credited here.

He was married to Blanche White (11 May 1911, New York); they had two children. Blanche White was her stage name; she was really English-born Ethel White (nee McCann).

1930 Census directly below says he was 29 when he married.
Census was taken April 1930 when he was 47 placing his year of birth as 1882. If true, this would mean they married at some point ranging from late 1911 to (perhaps more likely) early-late 1912.

Passenger List below (late August 1931) notes he is still married.
1930 Census (April 16, 1930): He is rooming with others at 5724 Sunset Boulevard.
He was born in Germany, as were his parents. He is 47* and is still married; he was 29 when he married. Says he immigrated in 1899 and is naturalized. He is an "actor" on "stage".
(* given his birthday is November 10, this would logically place his birth year as 1882).

1931 Passenger List (August 30, 1931): He is sailing from (????????) to San Pedro, CA on the S.S. Ruth Alexander. Gives birthdate as Nov. 10, 1886 in Manchester, England. This would logically make his apparent age 44, but it is listed as 46* so one of the two is wrong. He is married at this time. He was nationalized in 1919 in Chicago, Ill. Address: 5720 Sunset Hollywood
(* if 46, this would logically place his birth year as 1884).



If is worthy of mention that this information, and so much more, was collected by Jesse Brisson. I have culled a lot of it for the purposes of page structuring.
Real name: Leo Herbert Weiss


Height: 5'6"
Films listed on this page: complete Hal Roach filmography,
and all films with Babe Hardy; and Charley Chase.
| | |
| --- | --- |
| | 6 |

1923
Dogs Of War!
Actor around the lot

1923

Why Worry?


The Mighty Herculeo

1926
On The Front Page
Beauty expert

1926
Anything Once!
French surgeon

1933
Maids A La Mode
Andre

1933
The Devil's Brother
Tavern patron

1914
Leading Lizzie Astray
Cafe patron

1917

Back Stage


[unidentified character]

1917

The Hero


[unidentified character]

1917
Dough-Nuts
Camembert, the proprietor

1917
Cupid's Rival
Rich artist

1917
The Villain
[unidentified character}

1917

The Millionaire


[unidentified character}

1917

The Goat


[unidentified character}

1917

The Fly Cop


[unidentified character}

1917
The Chief Cook
Ham

1917
The Candy Kid
Rival proprietor

1917
The Hobo
Mr. Fox

1917

The Pest


The count

1917

The Slave


The vizier

1918
The Stranger
The greaser

1918
His Day Out
Man at barber's ball

1918
The Rogue
The count

1918

The Orderly


[unidentified character]

1918
The Scholar
Tough kid

1918

The Messenger


[unidentified character]

1918

The Handy Man


[unidentified character]

1918
Bright And Early
Honest crook

1918

The Straight And Narrow


Safecracker

1918
He's In Again
Prize fighter

1919

Rolling Stone


Bolsheviki leader

1919

Ship Ahoy


Lodger/Well-dressed crook

1920

Fists And Fodder


Rival

1920

Pals And Pugs


Beau Brummel

1920
Italian Love
The King of Little Italy


1920
Married To Order
Milkman