ATOLL K - FIRST TIME IN HIGH-DEFINITION BLU-RAY
A MUST-BUY FOR UNBIASED LAUREL & HARDY FANS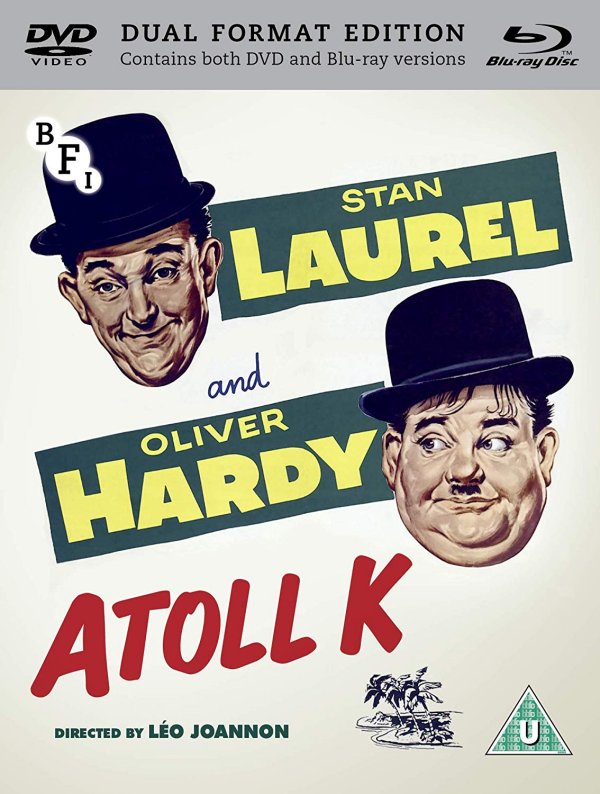 So finally after all these years of wondering, "which is the best DVD available for Laurel and Hardy's final film?" - that question now has a very definite answer. A beautiful 2K transfer of the complete 98-minute version of the film is now available to buy as a DVD+Blu-Ray combo pack. Before now there were really only 2 choices:

the French DVD from Gaumont

or

this German DVD from Gaumont/Tobis

.
Not only is this new release the only version you will ever need, but it also comes with an enormous amount of extras including first-time home video releases for one Babe Hardy silent film:

The BFI is proud to release the longest-ever English language cut of this historically important film, presented for the first time in High Definition and showcasing a new 2K restoration by the BFI using original 35mm nitrate film elements.
Special features (presented in High Definition and Standard Definition):
-Mother's Baby Boy (1914, 4 mins)
-Something In Her Eye (1915, 11 mins)
-Do You Love Your Wife? (1919, 14 mins)
-Somewhere In Wrong (1925, 23 mins)
-Should Men Walk Home? (1927, 27 mins)
-Laurel and Hardy in Tynemouth, aka Grand Hotel (1932, 11 mins)
-Laurel and Hardy in Scotland (1947, 3 mins)
-Railway Birthday Party (1947, 2 mins)
-Laurel and Hardy Return to the UK (1952, 2 mins)
-US trailer (c1954)
-German trailer (c1951)
-Interview With Stan Laurel (1957, 80 mins, audio only): Stan discusses his life and work with Arthur B Friedman in a recoding made a week after Ollie's death
Plus
The Boys Stay in the Picture: New Laurel and Hardy video essay by Chris Seguin, using rare images, scripts, letters and promotional materials from around the time of Atoll K (2018, 13 mins).
New feature-length commentary on Atoll K and new commentaries on the amateur films by Laurel and Hardy expert Glenn Mitchell (2018).
Illustrated booklet with new essays and notes by Laurel and Hardy authorities Glenn Mitchell, Norbert Aping and David Wyatt, new writing by Alan and Vic Pratt, plus full film credits.


France, Italy | 1951 | black and white | 98 minutes | English language with optional hard-of-hearing subtitles and audio description | original aspect ratio 1.37:1 | BD50: 1080p, 24fps, 2.0 PCM mono audio (48kHz/24-bit), region B | DVD9: PAL, 25pfs, Dolby Digital 2.0 mono audio (48kHz/16-bit), region 2


Click any of the 20 thumbnails below to show full uncompressed hi-definition image, directly from the Blu-Ray transfer. No cropping, no adjusting or enhancing. This is exactly what the image looks like on the BLU-RAY disc (naturally for the DVD the images will be significantly less sharper).
ATOLL K
on this website.



Buy the DVD+Blu-Ray from Amazon (UK).